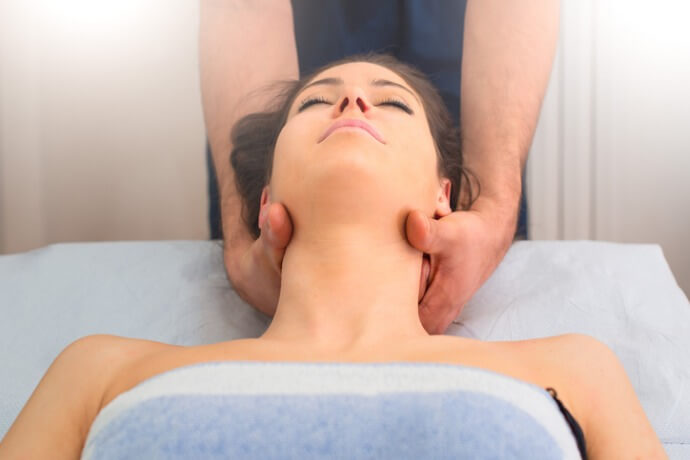 There are many medical terms that may make you think about a dire diagnosis and the hardships that come along with it. And while craniosacral therapy may sound like something out of an episode of Grey's Anatomy, it's actually a modality of osteopathy that aims to improve your overall health through pressure and manipulations of certain parts of the body.
What Is Craniosacral Therapy?
Craniosacral Therapy (CST) is the manipulation of the head, neck, back, and sacrum (tailbone), to locate points of inflammation and relieve pain caused by stress and compression. It's based on the belief that the body has the ability to heal itself. Physical therapists are facilitators in aiding this healing process of your body.
Procedure & Technique
The procedure feels like a gentle massage. The therapist will place mild pressure along your problem areas. The procedure may include a cranial massage, which releases a lot of pent-up tension.  Such kneading also stimulates the natural flow of cerebrospinal fluid, which is instrumental in promoting your body's organic ability to heal from stress, chronic pain, and hard impacts.
Benefits of Craniosacral Therapy
Because craniosacral therapy releases stress from a person's spinal cranium and spinal cord, it often results in relief from ailments that often affect those body parts, such as:
Headaches
Migraines
Sinus infections
Temporomandibular joint disorders
Neck pain
Fibromyalgia
Back pain
Scoliosis
Insomnia
It can also provide relief to gastrointestinal issues, such as Irritable Bowel Syndrome (IBS) and constipation. This is because stress and anxiety play a role in digestion problems.
It also causes cortisol levels to rise and decreases oxygen flow to the stomach. Undergoing Craniosacral Therapy techniques allows your body to release the stress.
How Many Sessions Will I Need?
Each session lasts between one and two hours. How many sessions you'll need depend on the reason for your treatment. A person who was involved in a car accident will need more visits than a person who's dealing with cumulative stress. Generally, appointments are scheduled between 3 and 10 sessions, while some people prefer to continue treatment for maintenance sessions.
If You're Dealing With Stress or Chronic Pain, Let Us Help You.
At Spine Works Institute, we take pride in helping patients through safe and natural therapies. We have an entire team of chiropractors, massage therapists, and healthcare professionals who are ready to assist you.
Call us at (817) 616-0700 to schedule an appointment, or learn more about our practice here.